Sandy Hook... CNN Caught Red Handed Using Fake Footage!
Submitted by SadInAmerica on Mon, 01/21/2013 - 4:56pm.
Why was CNN running fake Sandy Hook school shooting footage during their initial report? According to this excellent story on Digital Journal, anyone with Google Earth can examine the property layout of Sandy Hook elementary school and tell that footage used by CNN in this school shooting video report below that shows police running to the scene of the shooting is NOT SANDY HOOK elementary school. ~ Photos - Videos
Compare the images below! Why was CNN using it in their report? Why in the world would this CNN segment be called 'Keeping Them Honest'? If this is the idea of honesty that CNN has in mind, who needs them?
Much more of this excellent story from Digital Journal here:
At the words "they arrived to carnage," the CNN Anderson Cooper report cuts to helicopter footage of seven police officers charging across a parking lot and toward a school. The report says it's breaking news coverage of the shooting just hours earlier.
The three-minute report posted on the day after the shootings at the official CNN website is entitled "Tragedy Strikes at Elementary School." But the school is almost certainly not Sandy Hook.
It is St. Rose of Lima School, a private school a few miles away, also in Newtown.
The clip was run on CNN's "Anderson Cooper 360." The theme of Cooper's 360 program is "Keeping them honest."
CNN report, "Tragedy Strikes at Elementary School," screen shot at 8 seconds, police storming building
For anyone who wants to investigate this obvious fraud CNN is perpetuating upon the masses on Google Earth, I've included the GPS co-ordinates of St. Rose of Lima School below. We truly need Americans to start asking questions en masse. What is really going on?
The GPS coordinates of the area of the St. Rose of Lima School in question are: latitude 41.415154, longitude -73.297764. The street address which can be entered into the Google Earth search box to find the location is 40 Church Hill Rd, Newtown, CT.
Here's a picture showing the actual layout of Sandy Hook elementary school from NASA. Notice very clearyly, no curved landscaping around the school entrance. What is CNN trying to pull off here? They've surely fooled most Americans; thankfully, not all of us.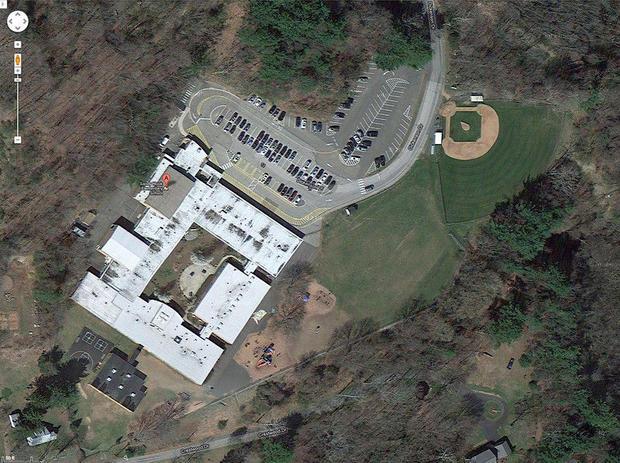 January 21, 2013 - posted at BeforeIt'sNews
Tag this page!
Submitted by SadInAmerica on Mon, 01/21/2013 - 4:56pm.
10599 reads